PEACE COTTAGE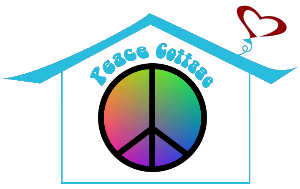 Peace Cottage is our small Community Center, and is a peaceful setting, themed to celebrate universal religion and world peace, that can be reserved for private events and shared spiritual encounter. We believe that all peaceful paths lead to the same God, known by many names.
"Just as there is less separation between the spokes of a wheel the nearer they get to the hub… the nearer you both come to the perfect Center . . . the less difference will there be between you." – H. Emilie Cady, in "Unity of the Spirit" in Lessons in Truth (1895).
Interested in attending an event at Peace Cottage?
You'll find lots of great things happening at Peace Cottage every week! A popular place for Yoga, Tai Chi, 12 Step Meetings, workshops, and more.
Check our @Peace Cottage page ("What's Happening" menu) for a complete list of events!
Interested in reserving the cottage for your public or private event?
Peace Cottage is a great facility for workshops, weddings, baby showers, half and full day retreats.
When you want more space than you have at home, but a hotel or conference center feels too big or impersonal . . . Peace Cottage is the perfect cost effective location.
Take a look at the pics below and then contact us for more info!
The cottage is located on the northwest corner of the UCC property.