Meet Our Ministry Team:
Meet Leddy:
Our Senior Minister, since her graduation from Meadville Lombard Theological Seminary, is formally known as The Reverend Dr. Leddy Hammock, but here at UCC she's just known as "Leddy"!
Mother of three sons (Steve, Dieter, and Levi), Leddy is "Granny" to four (Raina, Miles, Madeline, and Drake).  Her spiritual partner is her husband of nearly thirty years, Russ (L. Russell Hammock, Jr.), Director of Operations here at Unity.  (He's usually up in the Tech Loft, running sound, but sometimes you'll see him behind the drum kit for our special music.)
An engaging speaker, Leddy is an open book. On Sundays she's always teaching (never preaching), and she lets us know that she is working through "life stuff" with us.  Many times we hear her listeners say, "She was speaking right to me." Leddy is also an author who has published books, articles, poems, songs, and meditations.  (You can find her Bible based "Twelve Women of the Chalice" materials in our Bookstore.)
Forty years of active ministry (and proud to say that 34 of them have been at UCC) has given Leddy the chance to share a lot of smiles & hugs, greet many people on the spiritual path, make a few mistakes, learn many lessons, and grow in faith along with her loving congregation.
She likes to say, "We are all here for one purpose: to know and express God as God has never been known or shown before!"
When you visit UCC on a Sunday morning, please make sure to greet Leddy after the service at the front of the Sanctuary. She's waiting for you and excited to meet you!
Leddy's Popular Book & CD: The Twelve Women of the Chalice
---
Meet Judy:
Associate Minister, Judy Tafelski, is a very popular teacher at Unity.  Often co-teaching classes on Tuesday evenings with Dieter Randolph, Judy engages and inspires her students.
She enjoys sharing a household with her daughter and grand daughter (an inquisitive toddler), along with Rudy (a silky white kitty cat) and Reggie, an adorable Pembroke Welsh Corgi.
Judy holds a Master's Degree in Theological Letters and is at ease with presenting deep theological concepts in practical ways.  For instance, she adeptly brings in lessons from her work in dental hygiene to classes, like this:  "Just as nonliving sterilized tissue can be grafted into the gums and thereby brought to life by the cells of the patient, so scriptural writings that were alive in ancient culture can become vibrant in the lives of Truth students today as they learn to unlock the allegories and apply them personally in spiritual living."
Judy typically challenges students to move beyond bias and be open to fuller understanding by using the Transcendental Precepts of theologian, Bernard Lonergan:  1.)  Be attentive, 2.) Be intelligent, 3.) Be reasonable, and 4.) Be responsible.
Judy's dedication to Unity's foundational principles and her love for Buddhism translates into inspiration for Unity students to unlock the joy of the NOW moment.
---
Meet Rob: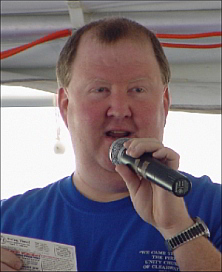 Rob Hammock (yep, Leddy's Brother-in-Love) has worked at UCC since 1985.
Most of that time, he was the financial manager of the church. Currently, he's the manager of the church's Bookstore and Café.
In his capacity as one of our Associate Ministers, he officiates at weddings and memorial services, and you can occasionally find him assisting on the platform on Sunday mornings.
Rob also works with our Youth of Unity group as a sponsor and started our popular Wednesday Night Teen Group meeting.