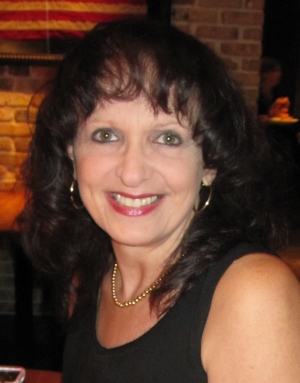 "Humbled and honored," Liz Dima, member and fervent follower of Unity, has graciously accepted the call to serve on UCC's Board of Directors. The affinity that she has developed for Unity began with a subscription to the Daily Word. "I fell in love with the positive affirmations," she recalls. Seeing the word Unity led to a Google search for a Unity church near Pinellas County. There, she found the UCC site and Leddy's picture.
A practicing Catholic, Liz first came to UCC in June 2010, where one of the first lessons she heard was "Got Joy?" "I cried like a baby," she said. "I was home. I've been home ever since. My mom was always an essential part of my spiritual upbringing. I tell her now that Catholicism will always be the foundation of my faith, but that Unity and Truth principles are like an extra helping of mashed potatoes at the holidays."
"I'd have to say that I started my life in a very diverse world," Liz says. She grew up in the carnival business. Her mother had left home at 18 to join the carnival and eventually met and married Liz's dad, 20 years her senior, who had been born and raised in the carnival world. The parents and their three children traveled mostly with Coleman Brothers Shows, starting out in Middletown, CT and then to upstate New York. Once the season was over, it was back to Florida for the winter. In the early 70s, Liz's father was diagnosed with cancer, which he survived, but it forced them off the road, and from that point, they stayed permanently in Florida.
Coming from a colorful background of traveling shows, Liz reflects and values that world where "you work with and encounter all walks of life. My parents never taught us divisiveness. We were only taught to be kind and respectful to others. I feel like my dad would have been an amazing Truth student and may have studied Unity sometime in his life. For example, he drove an old blue panel truck. If a guy drove by in a shiny new car, my dad would say 'boy, I wish that I had that car and he had a better one!'"
A Light Bringer, Liz has attended almost every single class offered by the Minister's team. Leddy's class on Lessons in Truth "lit a flame," and she feels blessed to have learned from other wonderful teachers and spiritual leaders like the retired Rev. Gwen Cohenour and the Reverends Judy Tafelski and Dieter Randolph, who, in addition to Leddy, taught her the most about Unity principles in the classes she took with them.
A Legal Research Assistant at Carlton Fields Law Firm, where she has worked for 28 years, Liz has two "amazingly beautiful and loving daughters, Nikki and Jodi" and two equally precious grandsons, Geoffery, 5, and Jaiden, 4, both a part of the Unity church family who are " by far, the very light and loves of my entire life."