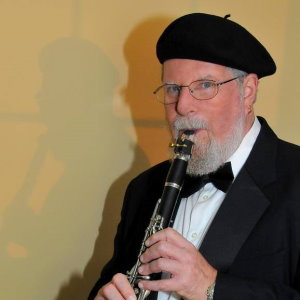 The voice of UCC via sax and clarinet, Frank Bowman originally planned to be a band director. After two and a half years of college studies "making me hate my favorite thing," Frank changed his major and graduated from the University of South Florida with degrees in Anthropology and Social Psychology, which earned his entry to a 42-year career working with the underprivileged in low income neighborhoods. All the while, he continued to pursue his passion for music and performing that was rooted in his childhood and could not be stifled.
Born on Long Island and moving at the age of 8 to St. Petersburg, Frank was continuously exposed to live music. His mother always listened to old songs on the radio, and a baby grand was ever-present. His grandfather played trombone in a band in the 1920s and 30s. Frank sang with the St. Petersburg Boys Choir from the age of 9 until his voice changed at age 12. He started playing clarinet in the 6th grade, adding the saxophone at Dixie Hollins High School, where he played in concert and stage bands and was the principal clarinetist in the Pinellas Youth Symphony. In 1981, he began playing with popular local bands. An original member of the "Tom Kats" 18-piece band, he performed with the international blues legend "Rock Bottom" and award-winning blues guitarist Molten Mike with whom he played and recorded for over 20 years.
Frank's first day job in 1974 was with the Pinellas County Grants Development Department. In 1986, he began working with Community Development in Tampa and then with the Hillsborough County Planning Commission. In 1999, he returned to Pinellas County as Neighborhood Planner and Affordable Housing Manager. A former owner of a custom cabinet shop in Safety Harbor, he now serves on the Board of Keep Pinellas Beautiful and is chair of the High Point Neighborhood Family Center.
A versatile musician, Frank performs on clarinet, soprano, alto and tenor saxophone, and the Yamaha Wind Controller. He also sings. Since the mid-90s he has played solo gigs at formal events throughout the Tampa Bay area and at numerous gallery openings. For 30+ years, he has performed with Paul Wilburn and "Blue Roses," a group specializing in cabaret style productions, featuring the music of the Great American Song Book. On January 19-21, they will be playing at American Stage in a Frank Sinatra tribute.
Since retiring last fall, he and his wife Bonnie, a fiber artist at Dunedin Fine Arts Center, have enjoyed the fall colors in the north Georgia mountains and a summer cruise to Alaska. He now has time for gardening, woodworking and crafting hobbies and for a favorite place that "feels like home," Unity Church of Clearwater. "I believe in their teachings, it is in line with my world view and is my church," he says.