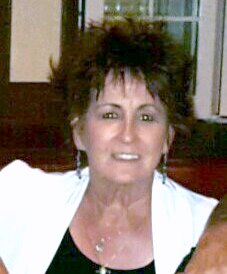 She opens the café every other Sunday morning, faithfully attends the weekly prayer and meditation service, enjoys Peace Cottage workshops and Peace Chapel concerts, volunteers in the bookstore, assists on Service Saturday, and will be taking the chaplaincy program classes this month. In just two years, Karyn Lehman-Russo, realizing here her spiritual destiny, has assimilated naturally into a church home that took her a long time to find, she says.
Born in Jersey City, the 5th of 7 children, Karyn is one of four surviving daughters. She attended Catholic schools for 12 years, graduated from a New York career academy and worked in a hospital lab before coming to Florida in 1979. Here, she worked as a medical assistant, in customer service, as project manager for an air conditioning firm and, with a friend, later began a housekeeping service.
Karyn Lehman and Dominick "Donnie" Russo were married in 1992. In 2006, he was diagnosed with cancer, a troublesome condition tolerated for nine years. Following lung surgery in 2015, he was home only seven days, the remainder of that year in hospital or rehab. As Karyn was leaving the Unity Sunday service on Nov. 15, the call came. They had had 23 years together, Karyn and Donnie, car enthusiast whose 3000+ car magazines remain.
Today, Karyn's work and limitless love revolve around dogs and cats. She came to Florida with a Husky and has never been without a pet since. In her household live three dogs, a cat and a rabbit. Their care and her pet sitting job keeps her constantly on the move. A believer in holistic medicine and a non-meat eater for over 30 years, Karyn feeds her pets only natural foods. Two of her dogs get to go with Karyn to the VA hospital in Bay Pines as a part of Project Pup (Pets Uplifting People). They visit patients on the Hospice floor where the "pet therapy" contacts are a heartwarming experience.
Aside from pet activity, Karyn loves Lake George in New York, walks on the beach and times with her family. She treasures a memorable tour with a sister in 1972 when they backpacked through Europe. Warm memories of her childhood are tempered by an alarming 4th birthday in the hospital. Oddly on that hot August day, she went to a closet to get a coat. Her mother was in her 9th month of pregnancy, and her sister pushed Karyn in a carriage to the doctor. Polio was suspected and confirmed. The family, except for her father, who had to go to work, was quarantined for months.
Karyn never wore braces. She was put in an iron lung, her muscles kept warm and moist and exercised every day. Focus on gentle treatments were inspired by Australian Sister Elizabeth Kenny. Because of that courageous Outback nurse whose unorthodox practices were publicly denigrated by a predominantly male medical establishment, a precious child overcame the specter of polio.