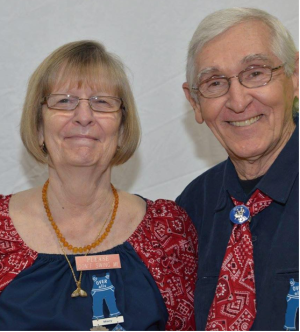 Rich and Mary Fisher of Weimar, CA and Largo, FL, on average, spend about six months in each state. Of the couple's six children, one son lives in Eugene, OR, a daughter and son-in-law live next door in Weimar, and the others are all in Florida. There are 12 grandchildren and four great grandchildren.
Rich's family moved to Florida in 1954 and lived on Gulf to Bay, and Mary, who was born in Atlantic City, came here, where she met her future husband, in 1977. They were married at sunrise on Oct. 22, 1981 at Philippe Park in Safety Harbor. In 2006, they moved to Hawaii and lived on the Big Island, eight miles from an active volcano. Recalling their time there, Rich and Mary noted that seniors were viewed as a source of knowledge, guidance, and inspiration to the next generations. They cited the term Kupuna, widely understood to mean elder, grandparents or elderly persons and considered the embodiment of natural respect.
After 28 years in the Air Force, 20 years in Reserve and 8 years active duty in Viet Nam and Desert Storm, Rich retired at MacDill Air Force Base. Because he liked the work he did, "I would do it again," he said. In Viet Nam he was a crew member of the C130 aircraft, charged with moving cargo and personnel. During Desert Storm, as a part of the Air Force Reserves, he set up tents on flight lines and stabilized those able to be transferred by air. As a souvenir of the war in the Gulf, Rich picked up a shrapnel of an Iraqi scud missile that landed near King Fahd Airport in Saudi Arabia.
Meanwhile, at home in Pinellas Park, Mary managed Island in the Sun Mobile Home Parks, waited and worried. Separation during Desert Storm was especially hard when the bombing began.
In the two years that the Fishers have attended UCC, they have appreciated a welcoming not found in any other church. Mary, who came first in January 2015, told her husband, "You won't believe Leddy. She's interesting…never, ever have I felt that way after a church service." Rich, who does repair and electrical work around the church, was not hard to convince. Always a seeker, and a follower of Eckankar, a modern day religion which emphasizes "spiritual liberation," the realization of oneself as a spark of God in one's lifetime, he finds a similarity in Unity's basic principles. "Leddy talks about the present, change is constant and that's what always impressed me about Unity," he says.
The Fishers love to travel and enjoy movies, especially science fiction. Adept at the Allemande Left, Do-Si-Do and other movements of a favorite fun activity, the couple enjoys square dancing at the Promenade Square Dance Club in Pinellas Park. When they return to their home in the Sierra Foothills on May 5, they will reunite with their California square dance club. And, on Sunday mornings at 7:30 a.m., PDT, they will be connected to UCC, with us in spirit, watching the weekly service on the House Built on Love website.